What are my options & How do I begin the Adoption Process for My Baby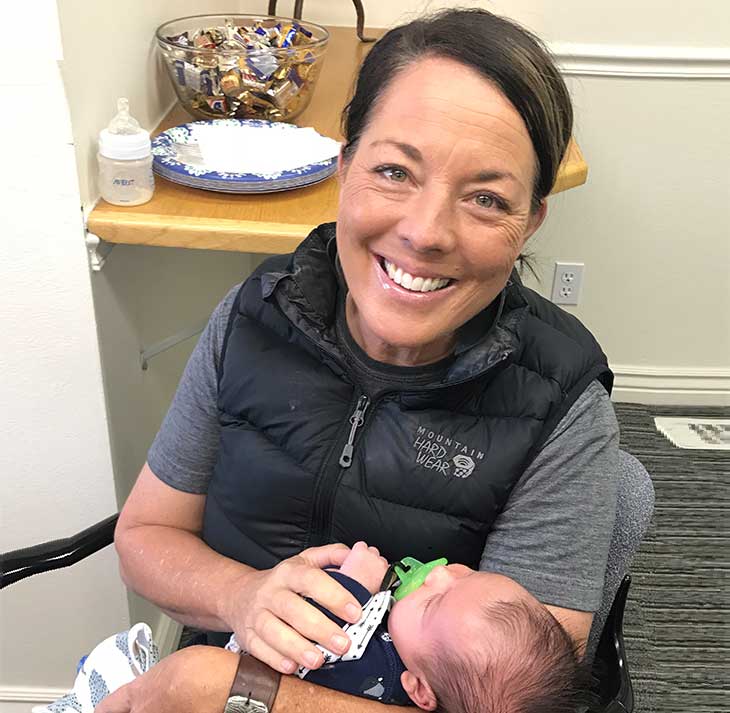 adoption process
How Do I Start
The Adoption Process
Sometimes our expectations don't match with the reality we are experiencing, and sometimes life circumstances change in a short amount of time.  Whatever the reason, if you have questions about adoption at any stage, we are happy to answer them.  The decision to parent or adopt can be revisited even after your child is born.  While the placing process for a child who has already been born may look a little different, the principles guiding that process do not change.  Adoption can be a very loving choice for your child, and you still will have the ability to choose an adoptive family and can choose to have an open adoption as well.  Each situation is unique, and the first step is to speak with a qualified adoption professional to discuss your options.
Are you pregnant and want to know more about the adoption process?
Is adoption still an option
It's never too late to make an adoption plan.
We are here to help you.

01
Contact Adoption Life
The first step in making an adoption plan is to get accurate and helpful information. You will likely have many questions about adoption in general as well as your individual situation. We are here and ready to answer your call. Adoption Life has qualified and compassionate professionals with many years of experience in the field of adoption. We understand the magnitude of making an adoption plan, and want you to have the support you need to make your decision. This first step can be intimidating, but we are here for you. Reach out today to get answers to your questions.


02
Explore Your Options
The decision to make an adoption plan is not one that is easy to come to. We will help you in exploring all the options you have before you, and what the potential outcomes might be associated with those different options. At Adoption Life, we value strong adoptions and will never pressure anyone to make an adoption plan who is not totally committed to that. We understand it is not the best choice for everyone, and are happy to help you sort through any feelings you may be wrestling with as you consider adoption. We have licensed mental health professionals on staff that are happy to help you in this process.


03
Resources Available to You
Adoption Life will support you through the entire placement and post-placement process. You will have access to a specific adoption professional who is experienced, compassionate, and available to you when you need. A case manager is here to help you navigate the process of making your adoption plan, seeking out and accessing important resources, and making important decisions related to the adoption. Adoption Life will take the lead in personally connecting you with important resources to meet your immediate and long-term needs and goals. These resources aren't always directly about adoption but may be critical to your well being and that of your child.


04
Choosing a Family
Adoption Life works with wonderful families who have completed the home study process and are qualified and eager to provide a loving family to a child through adoption. We work with families with diverse backgrounds and differing interests. You will have a chance to review profiles for different families, and can choose to meet families prior to your decision as well. We will assist you in identifying characteristics that are important to you, and facilitate contact with any families you wish to meet with. This is your decision and we are here to provide you with the tools to make it, and support you along the way.


05
Matching
Once you have chosen a family, we will go through a formal matching process to ensure that your wants and desires match with the family and vice versa. We want to make adoption placements that are strong and allow all involved parties to reach their fullest potential. Adoption involves a fair amount of paperwork, and we will ensure that all appropriate documentation is collected and reviewed.


06
Making a Transition Plan
Placing a child who has already been born will take some planning. It is critical that we take into account the age of the child, relationships that he or she has already formed and how best to support them in a transition to a new family and home. This plan will be completely unique to your situation. We will move at a pace that is comfortable for you and the child. This will be done with planning and careful consideration of the needs of all involved.


07
Consent Signing
Relinquishment is the legal process involving paperwork by which a parent gives up their legal rights to a child, consents to the adoption of the child by another individual or couple, and places the child with the adoptive parents. It's important that the parent do so voluntarily and is not forced or compelled to place for adoption. Adoption Life takes care to assure that a relinquishment is done ethically and in accordance with state laws. Consent signing will take place at a time and place that you are comfortable with.


08
After Placement Support
Life after adoption can be healthy, fulfilling, and happy. You may have some difficult times after placement but you can work through them with support. We would never ask you to "forget your child" or "get over" adoption but you can learn positive coping skills that allow you to grieve appropriately and still feel comfortable in your decision.

At Adoption Life, you will have LIFELONG support after placement. We will support you not only through adoption professionals but also through other birth parents that have been where you are, felt what you are feeling, and are living wonderful lives. We will help you find resources that will help you move forward in honor of your sacrifice. This not only means support for your placement but also helping you find ways to have a well-rounded, healthy life after placement.

right family for your child
Our Waiting Families
I'm pregnant and would like information about creating an adoption plan.
Please text me now.
If you are a prospective adoptive parent hoping to adopt, please click here.
Baby Just Born